LUNCHEON OF THE BOATING PARTY
Luncheon of the boating party, painted by the French painter Pierre-Auguste Renoir, is an impressionist painting. It's an oil painting on canvas and its dimensions are 129.9 cm. x 172.7 cm. It is exhibited in The Phillips Collection Art Museum in Washington D.C., USA. It was purchased by Paul Durand-Ruel and bought for $125,000 from his son by Duncan Phillips, a USA art collector, in 1923.
Renoir started painting it during the summer of 1880 and finished it in July 1881. It's one of Pierre-Auguste Renoir's most important paintings, it's Renoir's best painting of his impressionist period.
DESCRIPTION
This painting describes a group of people speaking, drinking, eating and having a good time on a balcony at the Restaurant Fournaise at Chatou Island, along the Seine River, next to Paris, France. Many people went to this open-air restaurant to escape from the noisy city to the serenity of this restaurant. All the people who are in this painting were Renoir's friends. These are thirteen characters:
1.
Aline Charigot:
She was Renoir's girlfriend. They got married one year later. She was a seamstress. On the painting, she is playing with a small dog.
2. M. Fournaise: He was the owner of the restaurant, which was very famous due to his very good food. He's resting, leaning on the railing.
3. Louise-Alphonsine Fournaise: He was daughter of the owner of the restaurant. She is also leaning on the railing and he is speaking with Baron Raoul Barbier.
4. Baron Raoul Barbier: He was an ex-cavalry official and a very good friend of Renoir. He helped Renoir organize the position of every character of the painting.
5. Jules Laforgue: He was a Symbolist poet and critic, whose work influenced Yeats, Pound and T.S. Eliot, journalist for La Vie Moderne. He is smoking and speaking with Charles Ephrussi, for whom he worked as personal secretary.
6.
Ellen Andrée:
she was an actress and she is drinking.
7.
Angèle:
She was a model and actress who posed for Renoir.
8.
Charles Ephrussi:
He was a banker and an art collector, writer and director of the
Gazette des Beaux-Arts
, who championed the Impressionists and he is wearing a black top hat.
9. Gustave Caillebotte: He was a very talented artist. He was a wealthy painter, collector of Impressionist paintings, yachtsman and racer. In the painting he is talking with Angèle and Maggiolo.
10. Maggiolo: An Italian journalist. He is speaking with Angèle and Gustave Caillebotte.
These three last persons are happily flirting. They are:
11. Lestringuez: Official at the Ministry of the Interior, he was another friend of Renoir. He was interested in hypnotism.
12. Paul Lhote: He was a wild adventurer, journalist and writer of short fiction. He is flirting with Jeanne Samary, number 13. He had a reputation of womanizer.
13.
Jeanne Samary,
a young actress.
In the background we also can observe some boats along the Seine River next to M.Fournaise. The orange sunshade creates a more uniform light that isn't usual on Renoir's paintings. Behind the sunshade we can see the outline of the railway and a big tree next to Charles Ephrussi. Over the table we can observe four wine bottles, glasses, grapes and other food. The characters are sitting on brown chairs, there are also people standing up. The railing is also brown.
BOATS TRAIN WAYS
STYLE
The painting shows a fluid brush stroke and a flickering light which enter through the opening of the balcony. This wasn't normal in Renoir's paintings. The painting is balanced in its chromatic form and in its composition. All the characters are in groups of three and if we divide the painting into two parts, we can see that there are more people on the right than on the left side and the same happens with the colours. This painting is dynamic, because all the people are moving, speaking, drinking, having a good time… and this makes the painting more realistic and full of energy and life. I think that the only static element is the table with the wine bottles, glasses, food etc. The colours are lighter in the foreground and darker in the background. Renoir spent some time setting in Chatou to paint this painting.
STATIC GLASS BOTTLES
This painting hasn't got any history or symbolism. It only reflects the French society in that era.
This painting is an impressionist painting because Renoir was inspired in Claude Monet. Renoir tried to capture the moment of a meeting of some of his friends and we can also see that the characters are speaking and drinking and also the wind that moves the green tree in the background of the painting. Renoir also reflected reality as he watched it while he was painting it. Colour also dominated over drawing, the scene is very luminous and he painted it in the open air, like a normal impressionist artist and he also used fast brush-strokes.
The first curiosity is that Charles Ephrussi, the man with the top hat in the background of the painting, was added after Renoir finished the painting, we can see some paint layers and marks in this part of the painting which show that Renoir made some changes in it.
In 1954 there was a restoration of Luncheon of the boating party, made by Sheldon and Caroline Keck, that generated a long-running controversy, because they changed it to another darker room and they also changed some colours.
This painting inspired the French film Amélie. There is also a book written by Susan Vreeland in 2007, which tells how Renoir made the painting.
RELATION WITH OTHER PAINTINGS
LA GRENOUILLÈRE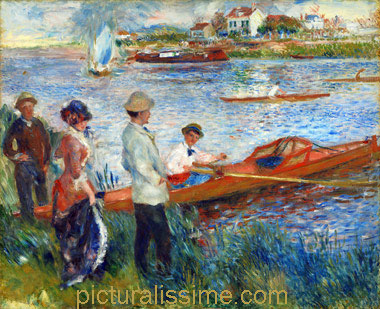 LES CANOTIERS À CHATOU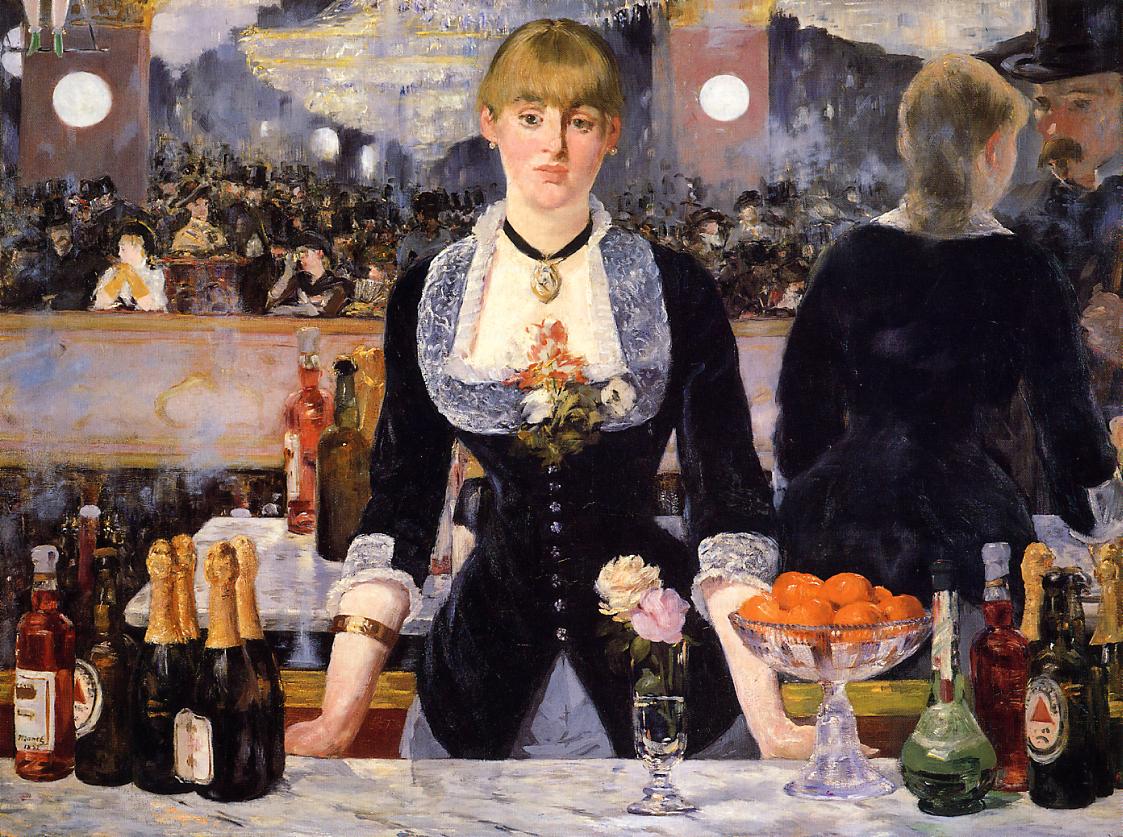 A BAR AT THE FOLIES BERGÈRE
BAL DU MOULIN DE LA GALETTE
THE SEINE AT CHATOU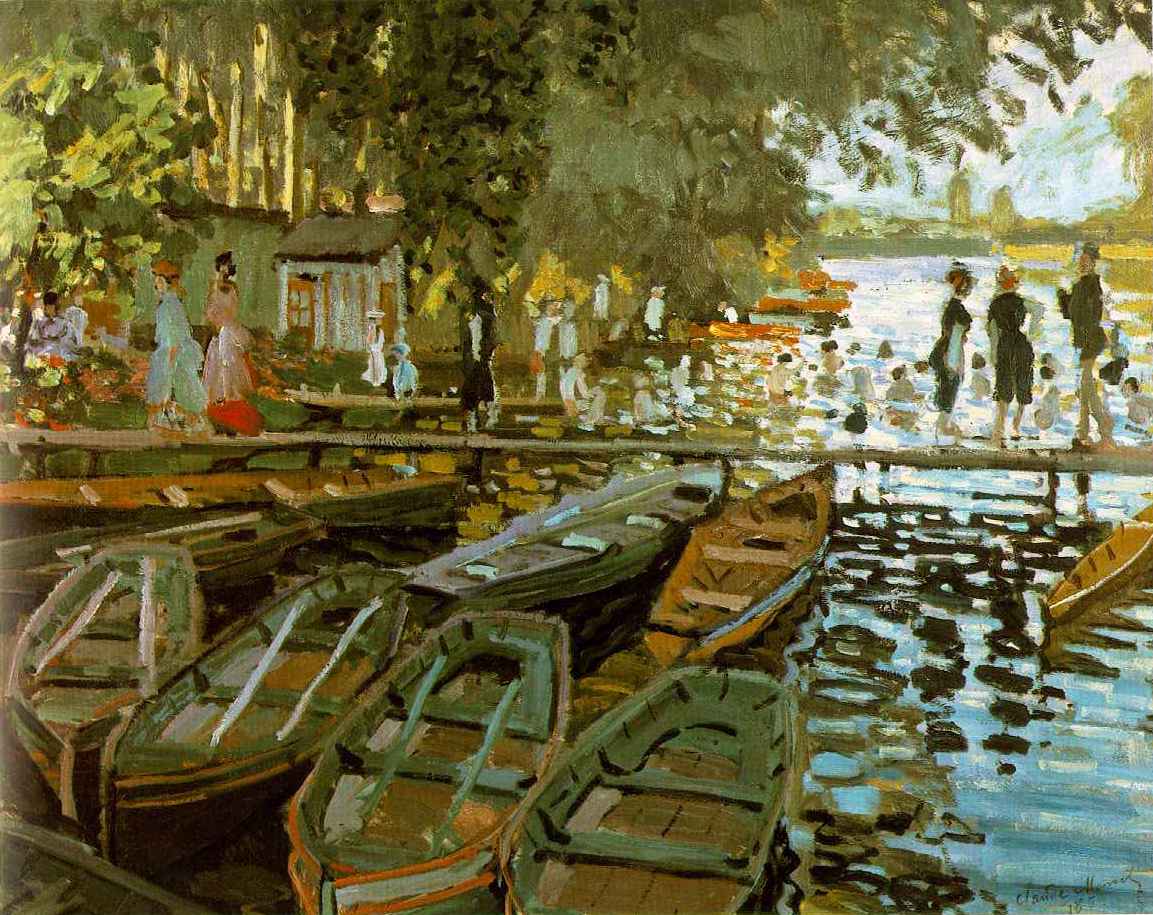 BATHERS AT LA GRENOUILLÈRE
These images are all impressionist paintings. Angèle appeared like a model of Renoir and Monet in Luncheon of the Boating Party and in A Bar at the Folies Bergère and the other images are in La Grenouillère and in the Chatou Island, like in Luncheon of the Boating Party.
WHY I LIKE THIS PAINTING
I like this painting because is very luminous, colourful and realistic and it's one of Renoir's best paintings and one of the most important paintings in Impressionism. I also like the energy of the characters. I identify myself with this painting because many people escape from the city looking for another calmer place to relax.
SOURCES: