Today in social sciences Bea A. and Carmen have made the exam of last unit. While we have corrected some exercises about colonialism:
Dani has corrected exercise 4 about the main causes of colonialism:
-Economic reasons: cheap raw materials
-Demographic reasons: high increased of population
-Polithical reasons: control of estrategic places
Afterwards Mariluz have corrected exercise 5 about the justification of colonialism: They said they have a responsability of civilizating the last developed territories of the colonies. It was racism. Yolanda R. have said that are people are equal , we have the same gens. In the 19th century Charles Darwin in the theory of evolution said: that survivals were the oné of the most adapted species. This is calles Social Darwinism wich was applied by the nazis to express their superiority against other races. In translation of the theory of species to societies the most educated societies were superior and white people were superior than other people in the colonies.
Races eugenics: eliminating all the human beings with physical or mental disabilityand sterilized people with this problem.
Andrea have corrected exercise 6 about axtitudes about colonialism:
-Most of the population didn´t have an actitude towards colonialism
-Most of the politicians were in favour ofd colonialism as Jules Ferry (France) and Benjamin Diesraeli (U.K.)
-Trade unionist and some socialist politicians were against colonialism defending the right of people deciding by themshelves George Clemencau (France) and Lenin were against it.
After that Paqui has read two texts in Spanish one in favour and one against colonialism we have to deduce them.
Sara has corrected exercise 7 about types of colonialism:
-Colonies of explotation: They totally depend to the metopolis with no goverment
-Colonies of settlement: they have an autonomous goverment but the exterior policy was correspond to the metropolis
-Protectorates: They were independent in theory but really they were someted by the metropolis laws
I have corrected exercise 9 about the Berlin conference: In 1885 a convention proposed by Otto Von Bismarck was celebrated in Berlinto stablished some rules about coloniasm and avoid some problwms btween european countries. This conference meant a scramble for Africa:
-They created the Congo free state
-Rivers were free for navigation
- The countrie that ocupied the coast could also go to the interior
They give a place in Africa to the king Leopold the II. In this place the king exploid people to take out rubber as if it was a private property and if they didn´t collect the quantity of rubber he said the cut the hands.
The bell has rung and there were no homework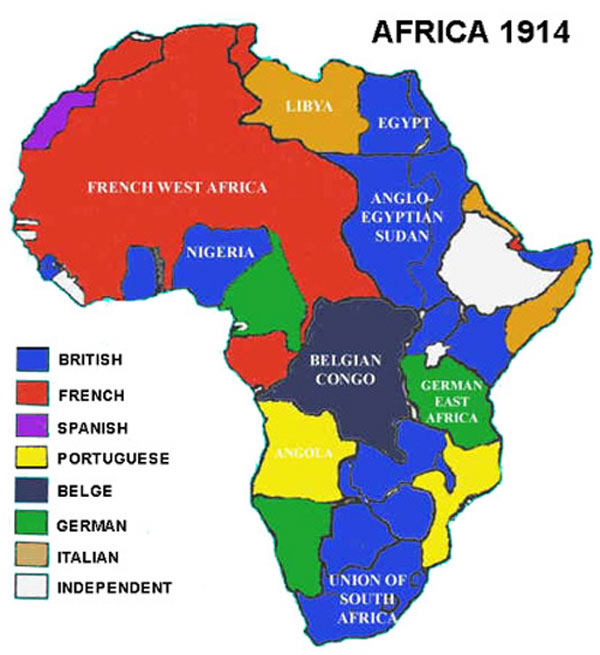 Source:
http://isedphistory.wordpress.com/ww-i/causes-of-ww-i/timeline-causes-of-ww-i/