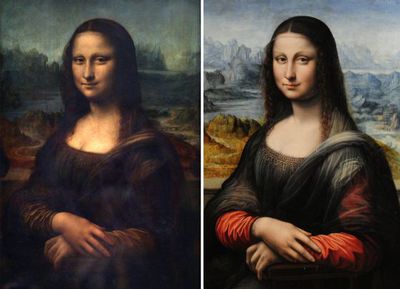 Sources:
http://elpais.com/elpais/2012/02/02/inenglish/1328163642_850210.html
http://en.wikipedia.org/wiki/Isleworth_Mona_Lisa
Here you have three different versions of Leonardo Da VInci's Mona Lisa:
- The painting on the left is considered to be the original one and it's located in the Louvre Museum, in Paris (France).
- The work in the center belongs to El Prado Museum. It was stored in the basement of the museum and was discovered and restored in 2012. It is supposed to be a copy made by Salai, Leonardo's pupil, at the same time that Leonardo painted the Mona Lisa. On the following link you can read more about its discovery and restoration:
- The painting on the right is called Isleworth Mona Lisa. It was discoverd by a British art collector called Hugh Blaker, who bought it and brought it to his studio in Isleworth, London. There are a lot of doubts about its authenticity, but last year the Swiss Federal Institute of Technology said that this painting was made before the Louvre Mona Lisa. Here you have more information about this painting:
And this is another article which analyzes Mona Lisa' s similarities with Salai and the theory about the real model for this painting:
Which version you prefer?