Here you have the names of all the figures who appear in The Meninas:
The apparent centre of the painting is (1) Infanta Margarita Teresa, five- year old at the moment. She his attendent by two ladies-in-waiting or meninas, Doña Isabel de Velasco (2) and Doña Agustina Sarmiento de Sotomayor (3). This one is kneeling before Margarita and offering her a drink. To the right, there are two dwarfs, who acted as jesters: Maribarbola (4) and Nicolás Pertusato (5), who is bothering the dog. Behind this group, Doña Marcela de Ulloa (6), Margarita's chaperone and a guardadamas or bodyguard (7), who hasn´t been identified. In the background, to the right, the man in the doorway is José Nieto Velázquez (8), the queen's chamberlain and head of the royal tapestry works. One of his tasks was opening and closing the doors to the monarchs. Velázquez (9) portrayed himself in his workshop and retouched his chest some years later, when he was accepted as member or the Order of Santiago. Finally, the mirror in the background reflects the figures of Philip IV (10) and his wife Queen Mariana of Austria.
There is a smaller version of The Meninas in the United Kingdom, preserved in the country house of Kingston Lacy, in Dorset. Its colours are lighter, the light is less strong, the monarchs are noy reflected in the mirror and there are pencil lines in the Infanta's face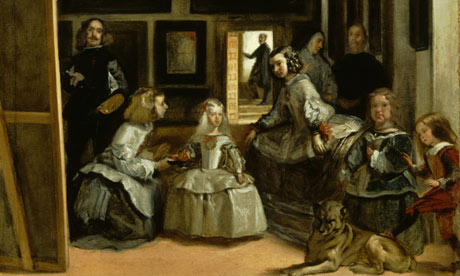 This painting was supposed to be a copy of the original one. But last October, professor Matías Díaz Padrón, former curator of El Prado Museum, affirmed that this painting might have been a model painted by Velázquez before finishing the big one, maybe to show the king the definitive version. However, there is no agreement about this. Other experts say that the Dorset version was painted later, because it reflects the definitive version and not the retouches made by Velázquez. Another opinion says that this version was painted by Juan Bautista Martínez del Mazo, Velázquez's son-in-law.
If you want to read more about these other Meninas, here you have an article from The Guardian: