As many soldiers were disfigured during WW1, there was a series of artists who thought tthat they could help them using their art to design masks that could cover their wounded faces.
The first initiative appeared in the United Kingdom in 1916. Sculptor Francis Derwent Wood created a team of sculptors in the 3rd London General Hospital, where they designed metallic masks for the traumatized soldiers who had lost part of their faces. The soldiers called this department the "Tin Noses Shop"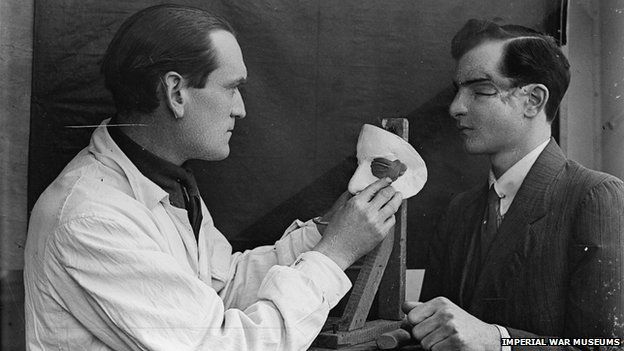 American sculptor Anna Coleman Ladd read an article about the "Tin Noses Shop" and decided to move to Paris, settle down there and open the Studio for Portrait Masks, administered by the Red Cross. There, she statrted working. Every mask took a month to be finished. Thewy were many by copper and later painted manually. The patient had to wear the mask while Anna painted it, so that the colours used were as closely as possible to their real colour.
There were around 20,000 soldiers with facial wounds. Not all could receive a mask and many of them had to live with their wounds in residences or isolated villages, so that their faces didn't disturb the "normal" people.
Here you have some links if you want to learn more about this topic:
http://www.smithsonianmag.com/history/faces-of-war-145799854/?no-ist
http://www.npr.org/2014/09/25/351441401/one-sculptors-answer-to-wwi-wounds-plaster-copper-and-paint
http://www.theguardian.com/world/postcolonial/2014/may/26/broken-gargoyles-the-disfigured-soldiers-of-the-first-world-war
http://shm.oxfordjournals.org/content/early/2011/02/27/shm.hkq095.full#xref-fn-31-1