Hi!
Today in social sciences we started the class correcting the squeme that we had for homework. This squeme was about the Charles III´s enlightened reforimism.
At firts there was the "Beginning of his reign":
The Esquilache riots that was a revolt of the privileged to instigate the people to revolt against Esquilache.
The consequences are: He fired his ministers and from then on he only hired spanish ministers. But this didn´t stop the reforms. He also expelled the Jesuits from Spain.
Then we have the "Reforms":
Educational reforms, like: Creation of the primary schools.
Economic reforms, like: Colonisations of new lands, liberalization of the prices of wheat.
Other reforms: Decree declaring the honesty of all professions, reinforcement of the king´s authority over the church.
The consequences of the reforms: A positive effect in demography and economy, population increased but the mayority of the people continued to be poor. An agrarian reform was needed but the country and the king didn´t have this in mind.
After corrected this Paqui said us that we have to copy the last part of the squeme from a text in the white board:
"When Charles III died, his son Charles IV became the new king. He was not gifted to rule and Charles III adviced him to keep the counts of Aranda and Floridablanca as ministers.
His rule was conditioned by the French revolutionaries"
We commented this in class and the teacher said us that this king was not the indicated one to reign. And also we commented the great seemed with Juan Carlos I, look: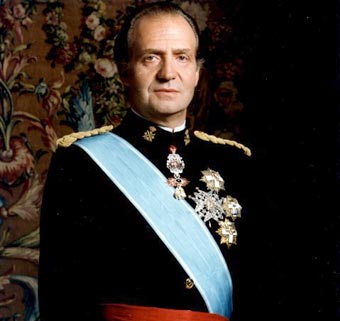 Then we start to comment things of the hispanic economy of now. Things like there were people that didn´t had to work to live with a lot of money. Like the Duchess of Alba (Jose Luis understood that the traduction of "Duchess of Alba" was "Ducha de Alba"). And we also talked about the piratery of the films and series.
And the glossary words of today are:
-The best fitted:el mejor adaptado.
-Tariff: aranceles.
-Custom union: unión aduanera.
-Duches of Alba: Duquesa de Alba.
-Gifted to: dotada para.
Bye!